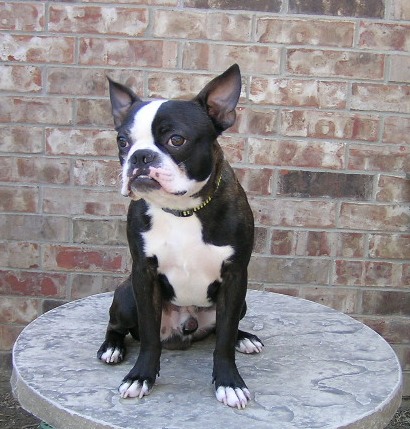 *** UPDATE ***
Beau HAS FOUND His Forever Home !!!
Beau is the result of what happens when animals are given as Christmas presents. Although he was in a very loving home, the family didn't have the necessary time to spend with a pup, so Beau was surrendered to us so he could have another start at a new life.

Beau is just 10 months old, yet has very good manners. He's well on his way to being house-trained, and is working on basic commands. He is extremely friendly and gets along well with other dogs.

His coat is a beautiful brown/bronze color with white markings. Beau's new family should have past/current Boston Terrier experience.

Scottie Kingdom Rescue is a 501(c)3 Non Profit Organization. We prefer to adopt to families with past Scottie, Westie and/or Terrier experience, but realize this isnít always possible. You must have a secure & fenced yard.

We do not ship our pets. If you have that special place in your heart & in your home for a Scottie (or any of our other available Rescue Dogs), please be prepared to visit us in Dallas for an in person meet & greet session with our Available Dogs. If you have existing pets, they must travel to Dallas with you, so we can be assured that they will be compatible with the new addition to your family.

Please contact us at Rescue@scottiekingdom.com to receive an Adoption Application or for more information on our Adoption process. Also, please take the time to visit our website www.scottiekingdom.com for further information.

Thank you for considering Adoption!