Logan is Special ~ Very Special. He is in need of a home that is Full Of TENDER LOVING CARE! We are praying he will have a full recovery from the broken leg he suffered when he was kicked. Prior to entering our Rescue, he had surgery to place two pins in his leg to repair a fracture above the knee. Currently, Logan is not putting much pressure on his bad leg, but in time, we're hoping he will begin using it again, as the healing process continues. Logan is a gentle soul that loves to be held and cuddled. His eyes will melt your heart. We anticipate Logan will be ready for Adoption on December 15th. Logan must be Adopted to a Family with past Scottie experience and a Secure & Fenced Yard. At this time, we will not consider homes with children, as we feel Logan requires a quieter environment. We do not Adopt our TLC Scotties outside of the D-FW Area, as we will continue to monitor his medical condition for quite some time after he is Adopted. For more information on Logan, please feel free to contact us at Rescue@scottiekingdom.com
Update: 10-30-04 Logan was re-checked at our Vet today. Additional x-rays were taken and confirmed that Logan has a 2nd fracture below his knee-cap that was missed by the original out of state Vet This is horrible news for Logan, as he is quickly growing tired of being confined. He will be seen by a Specialist ASAP.
Update: 11-2-04 Logan saw a Veterinary Specialist today. He will require additional surgery in 2 weeks to remove the pins that are holding the upper fracture together. The lower fracture had already begun to heal, so the Vet prefers to leave it alone, instead of re-breaking it & re-setting it. It's a tough call to make, but it's in Logan's best interest not to disturb his leg anymore than necessary. Logan is scheduled for surgery on November 16th.
Update: 11-9-04 Logan remains on pain killing medication and is very restless. At times, he yelps loudly when moving his bad leg. He is wanting to go outside more often, where he sits in the sunlight and lets the warmth sooth his sore leg. We have set up an exercise pen in the yard, with a bed, so he can stay outside longer and not be bothered by the other Scotties. His other favorite time is spent on the "people bed", where he lays against your body for support and receives gentle massages until he falls asleep. Just 7 more days of confinement until his surgery!
Update: 11-16-04 Logan completed his surgery today, which was performed by Dr. Darryl McDonald. The distal femur fracture has healed, but the pins had migrated and were rubbing on his tibia (lower leg bone) causing a lot of pain & inflammation. Dr. McDonald removed both pins and Logan is already showing signs of relief, as he is able to sit for the first time since entering our Rescue (we had only seen Logan stand or lay down). The proximal fracture appears to be healed when viewing the updated X-Rays. Logan still requires cage rest and controlled physical therapy to help improve his strength and range of motion in the injured leg. His stitches will be removed in 10 days and a complete re-evaluation of his leg will be performed.
Update: 11-22-04 If anything is apparent, it's that Logan is no longer in pain! He's a much happier Scot, now that the pins have been removed from his leg. He's still not putting any weight on the leg, but he's able to relax more, without pain. Logan has an appointment to visit his surgeon, Dr. Darryl McDonald, on Monday, November 29th. His stitches will be removed and his progress will be evaluated.
Update: 11-29-04 We had a lot to be Thankful for on Thanksgiving Day this year! Logan began putting some weight on his sore leg and actually ran a bit in the yard!!! He is a changed Scottie, with no pain, lot's of tail wags and is eager to run and play after being confined for so long. He saw his surgeon this morning and had his stitches removed. Our next step is to meet with a Canine Physical Therapist and see if we can help Logan's progress with some physical therapy. His appointment is scheduled for December 1st.
Update: 12-1-04 Logan met with his Physical Therapist today. We now have two exercises to perform on Logan three times a day and he will begin Aquatic Therapy using an Underwater Treadmill on Monday, December 6th. We are hoping these additional steps will help strengthen Logan's leg and allow him to be more of a "normal" Scottie that wants to run and play without pain or limping.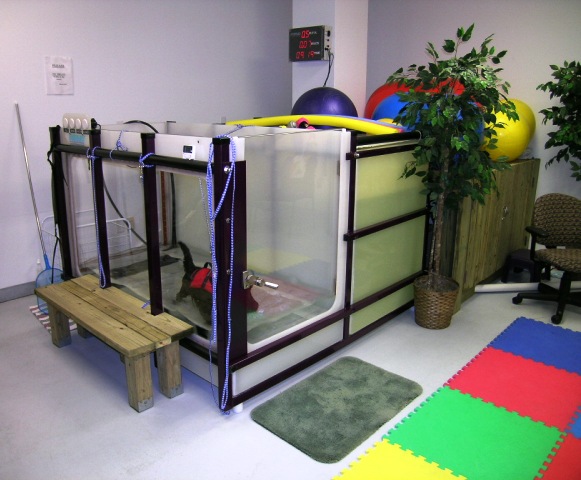 Update: 12-6-04 Logan had his first Physical Therapy session today. Initially, they relax his hip & leg with warm compresses, then do some stretching exercises. Logan is then placed in a large tank and water rises from below to an exact height. (Less water = more exercise on his bad leg). The Underwater Treadmill is then set to a very precise speed, as Logan will stop walking on the pads of his foot if the speed is too high. They're wanting him to put weight on his bad leg and this is accomplished with the slower speeds. His first Underwater Treadmill session lasted 10 minutes, but future sessions will be extended.
UPDATE: 12-16-04 After four Physical Therapy sessions, Logan is using the Underwater Treadmill for 20 minutes per visit! Today he also began swimming exercises which lasted 2 minutes. This time will be extended as he makes progress. Every visit to the Physical Therapist shows improvement with the amount of pressure he is putting on his bad leg. Evidently, Logan suffered some nerve damage when the pins were installed, but in time, there is the possibility that the nerves will regenerate.
UPDATE: 12-19-04 Logan continues his Physical Therapy sessions and home swimming. He is progressing well. This afternoon, he will be introduced to a prospective parent!
UPDATE: 12-22-04 Logan has a 2nd "meet & greet" session today. His new parents are madly in love with him and want to give him the love and attention that he needs. They're more than willing to continue his Physical Therapy when necessary and can't wait to have him join their family.
UPDATE: 12-31-04 Logan leaves his foster home for the last time today. He's moving to his new home, where love is overflowing and he will receive all of the medical care he needs. One of his parents has a nursing background! Logan is certainly in good hands!
UPDATE: 1-24-05 Logan, his new Parents and Scottie Kingdom Rescue went to what easily could be Logan's final Physical Therapy Appointment today. Against all odds, Logan has at least 75% use of his leg! FANTASTIC NEWS!!! His new Parents are exercising Logan's leg in their tub at home and also on walks in their neighborhood, all according to the precise instructions of his Physical Therapist.
***UPDATE***
LOGAN HAS FOUND HIS FOREVER HOME!!!
* THANK YOU TO LOGANíS DOCTORS *
Dr. Scott Erickson & Dr. Erica Erickson
BRECKINRIDGE PARK ANIMAL HOSPITAL
3600 North Star Rd.
Richardson, TX 75082
(972) 690-6900
Dr. Darryl McDonald
Dallas Veterinary Surgical Center
4651 North Beltline Rd.
Mesquite, TX 75150
(972) 226-3399
THANK YOU!
Thank You to all of the wonderful, caring people that have donated to Logan's Care.
You DID make a difference in his life!
Bless You All !!!
Scottie Kingdom Rescue, Inc. is an Approved 501(c)(3) Non-Profit Organization
Your contribution is a tax-deductible donation to the extent allowed by law