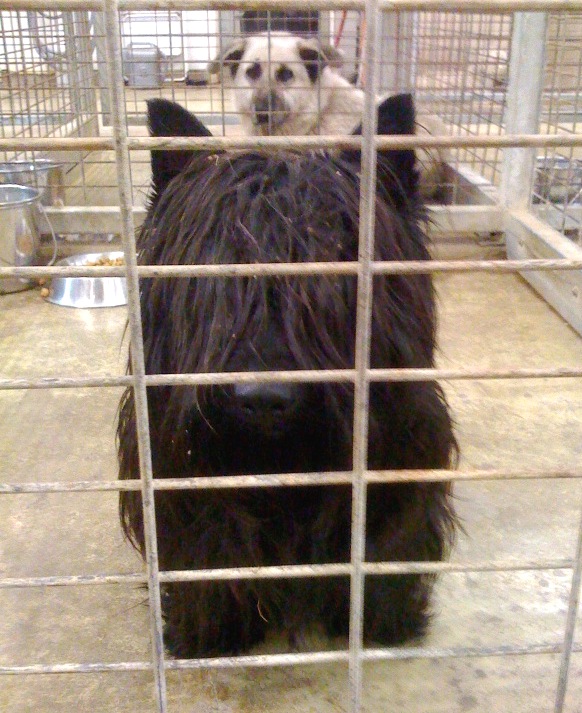 Unbelievably, this is Ellis just prior to us rescuing him.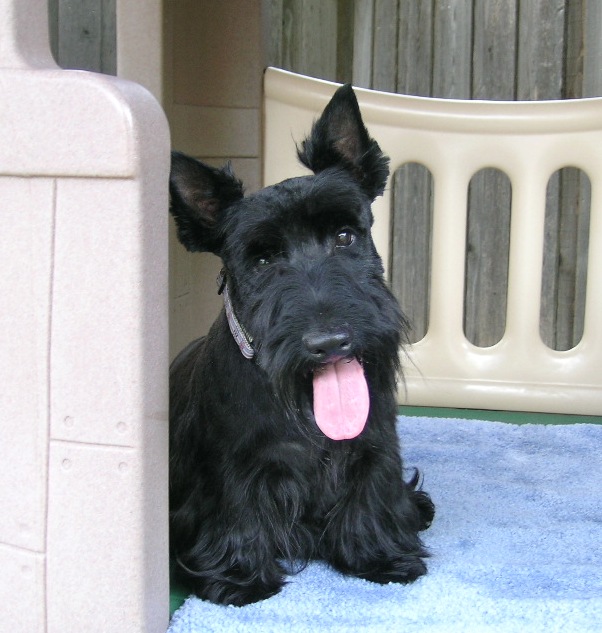 This is Ellis after our groomers worked their magic!
Ellis has found his new home, however, prior to finalizing the adoption, we re-tested Ellis for heartworms and he tested positive.
We will begin the 60+ day process of preparing, then treating Ellis for heartworms, and then he will be ready to go to his new home!
Ellis was found as a stray and transferred to us by a shelter. We're not sure if he was 'dumped' by an uncaring owner, or if he 'escaped' his previous home, but we sure are happy that he's with us and has received what easily could be his first grooming.

Less than 48 hours after Ellis was groomed, his entire attitude changed. He was once again a PROUD and HAPPY Scot! He is constantly wagging his tail and has a great jaunty walk.

Ellis is approximately 3 years of age and is searching for his forever home, so he never has to worry about being neglected again.
All dogs adopted by Scottie Kingdom Rescue, Inc. have had a full medical exam by one of our licensed Veterinarians, which includes testing (and treatment, if necessary) for Heartworm disease, Lyme disease, Ehrlichia and Anaplasmosis, all necessary vaccinations, spay/neuter surgery, dental cleaning as necessary, microchipping, registration of the microchip, and any other medical needs each particular dog may need. Because we want to assure you of the health of our adoptable pets, we include a pre-paid 30 day health insurance policy with each adoption. Copies of all available medical records are transferred to you when the adoption is finalized.

We prefer to adopt to families with past Scottie, Westie, Terrier (or similar) experience, but realize this isnít always possible. We do not ship our pets. If you have that special place in your heart, and in your home, for a Scottie (or any of our other available rescue dogs), please visit us in Dallas for an in person meet & greet session with our available dogs. If you have existing dogs, they must travel to Dallas with you, so we can be assured that they will be compatible with the new addition to your family.

Please contact us at Rescue@scottiekingdom.com to receive an Adoption Application or for more information on our Adoption process. Also, please take the time to visit our website www.scottiekingdom.com for additional information.

We sometimes receive several applications on the same dog. Our goal is to place the dog in the best home possible, based on his/her needs, personality and past history. Please note: Adoptions are not done on a first come, first served basis. Submitting an application does not guarantee the adoption of any dog. We are looking for the best available home for each of our rescue dogs.

Thank you for your understanding, and for considering adoption!

Scottie Kingdom Rescue, Inc. is an I.R.S. approved 501(c)3 Non-Profit Organization. We are not supported by your tax dollars or public grants, rather, we rely on donations to help us continue our rescue work for animals that are in need. Your donation is tax deductible to the extent allowed by law.

Donations may be made via PayPal to email address:
Donate@scottiekingdom.com
or via USPS, to PO Box 551265 ~ Dallas, TX 75355